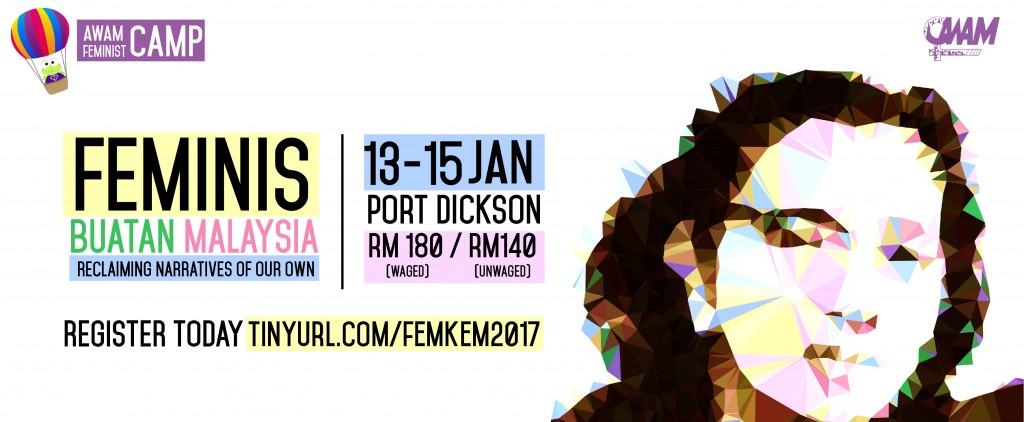 Stories are important. They shape our worldviews and form our identities. Stories highlight, challenge and illuminate the humanity behind the human beings. The third AWAM Feminist Camp returns in 2017 with the theme "Feminis Buatan Malaysia : Reclaiming Narratives of Our Own".
Have you ever wondered what feminism looks like in Malaysia, or curious about the feminist movement in the local context?
Have you longed to have make connections and have meaningful conversations with people that are as curious and passionate about feminism, social justice, the state of our country and the world as you are?
Are you willing to have your views challenged and listen to a diversity of perspectives on the topics that you care about?
If you answered yes to one or more of these questions, then this weekend of flowing conversations is one you don't want to miss! Bring your issues, concerns and passions and be prepared for the kind of deep sharing and engagement you've been longing for.
Join us for a three-days two-nights AWAM Feminist Camp where we create an open space to discuss, share experiences, push the boundaries of our understanding and together, reclaim narratives of our own.
The RM180 fee includes transport, lodging and meals. The fee for those without an income is RM 140/-
REGISTER TODAY @ tinyurl.com/femkem2017
You can also Sponsor-A-Participant for a pledged amount. We offer financial scholarships on a needs basis for this programme. For those who require financial assistance, please contact Ain Nasiehah at 03 7877 4221 or e-mail services.awam[@]gmail.com.