What Is DOMESTIC VIOLENCE?
Domestic violence is a pattern of behaviour in any relationship that is used to gain or maintain power and control over an intimate partner. This includes any behaviours that intimidate, threaten, manipulate, coerce, hurt, injure, humiliate, blame or wound someone.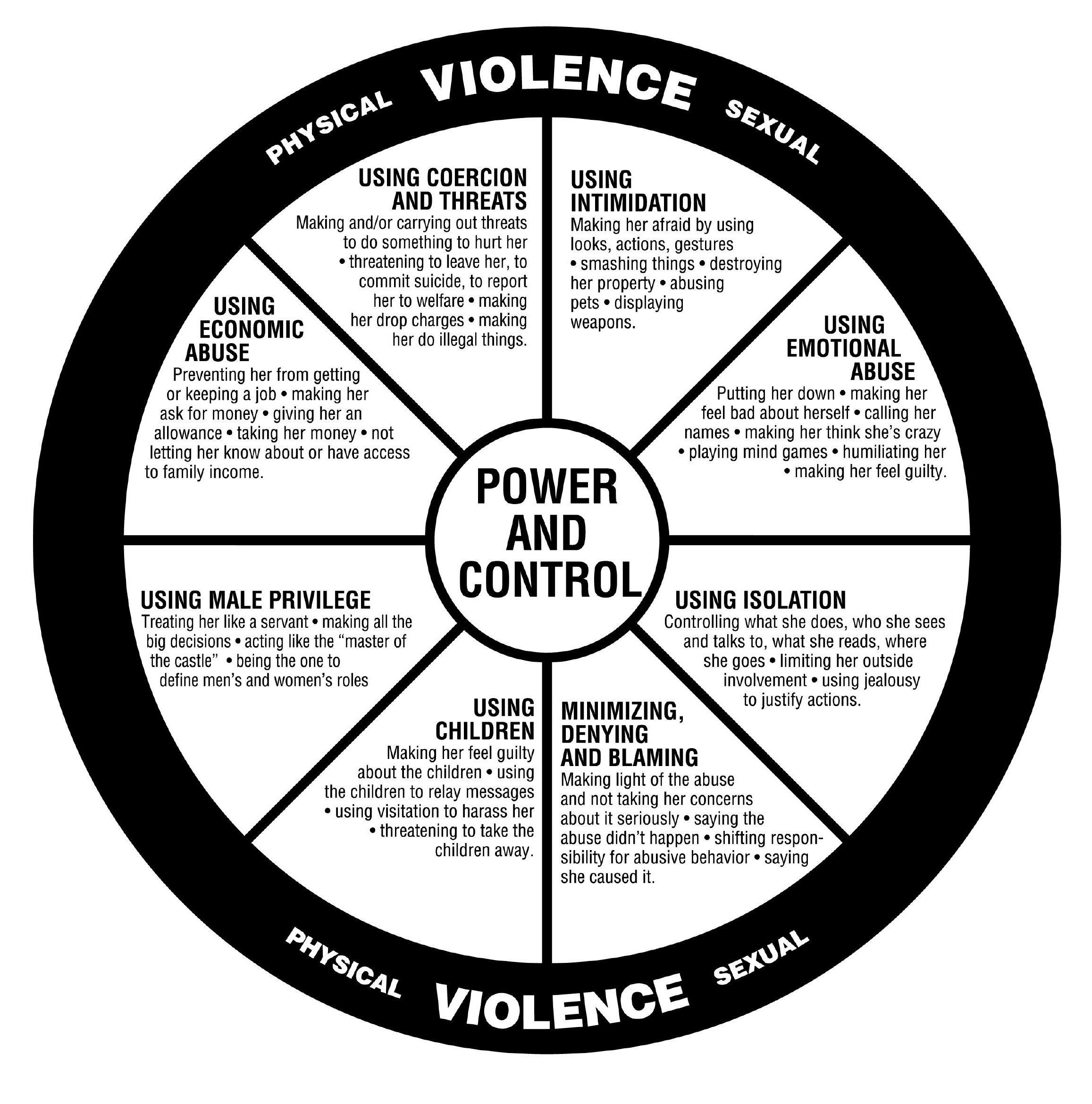 The Power and Control Wheel
Developed by the Domestic Abuse Intervention Project, the Power and Control Wheel is useful in understanding domestic violence. In many instances, one or more violent incidents are accompanied with regular occurrences of other types of abuses. The ultimate aim of these tactics is to establish power and control (hence at the heart of the wheel) on what the partner thinks, acts and/or feels.
[The Power and Control Wheel was developed by Domestic Abuse Intervention Project, Duluth, MN, https://www.theduluthmodel.org/]
Frequently Asked Questions
Safety Tips
When With The Perpetrator
There may be patterns to the perpetrator's abuse or violent behaviour. Be aware of signs that show that the perpetrator is about to become violent – this will enable you to assess the level of danger of the situation for you and your children. If it looks like violence may take place, remove yourself and your children from the situation immediately, if possible

Think of a few plausible reasons for leaving the house at different times during the day or night – this will allow you to have an excuse to get out, should you feel the violence being about to take place

Lock up sharp and/or heavy objects (e.g., knives, hammers) or make them as difficult to retrieve as possible

Figure out the 'safe places' in your home, where weapons are not kept. Try to avoid arguing in rooms with tile or hardwood floors such as kitchens or bathrooms, if possible

During the violence, do not run to where the children are, as the perpetrator can hurt them

If you cannot escape from the violence, make yourself a small target by going into a corner, curling up into a ball and having both arms around each side of your head with your face down

Have a phone that is accessible at all times, or know where the nearest one is. Save or remember the following numbers:
999

The number of your nearest police station

AWAM's Telenita numbers: 016-2374221 or 016-2284221 (to prevent the perpetrator from recognising these numbers, save them using different names)

The number of a trusted family member or friend

Any taxi service or schedule for public transportation (train, bus etc)
Let trusted friends and neighbours know about your situation and make a plan with them so that they know when you need help and what they can do. This can include visual or online signals

Keep a copy of important papers with you – NRIC (MyKad), driving license, your children's birth certificates or NRICs

Practise how to get out safely, including with your children 

If you have a car, reverse park it, and make sure that it is always at full tank with only the driver's door unlocked. This allows you to make a quick escape. If you have children who will leave with you, you can consider keeping one door unlocked for them to use to enter the car, whilst keeping the remaining passenger doors locked

If you do not have a car, consider creating a code word with a trusted person who has a car, which will signal to the person that you need to be picked up immediately 

Call AWAM from time to time to discuss your options, even if you are not ready to leave. You can reach out to us at 016-2374221 or 016-2284221 via direct call, WhatsApp or Telegram
When Preparing to Leave the Perpetrator
Make a plan for how you are going to leave, including the 2 to 3 places that you can go to, and how to cover your tracks. Make one plan for when you have time to prepare to leave the home, and another for when you have to leave in a hurry

Make a plan on how you can take your children with you safely.

Collect any evidence of physical abuse, if you can. Keep it in a safe place outside the home or share them (physically or online) with a trusted person or women's rights NGO such as AWAM. Examples of evidence can include:
Photos of injuries or bruises. If possible, have these photos dated 

Photos of broken/damaged household objects or areas of the home by the perpetrator during the violence

Audio recordings or videos of the violence, or any threatening messages (written, audio) that the perpetrator sent you

Torn or bloody clothing 

Any records from doctors or police that document the abuse. Whenever you are injured, try to go to a doctor or the Emergency Department in a hospital as soon as possible. Whilst getting treated, inform them what happened, ask them to make a record of your visit and get a copy of it

Diary entries about your abuse
Put together a bag of essentials. Hide it where it is easy for you to grab, or deposit it with a trusted person. Some things to include in the bag are: 
Copies of your NRIC (MyKad) and driving license, as well as your children's birth certificates or NRICs

Spare keys to your house, car, workplace

Copies of any legal documents that you may have – insurance policies, marriage licenses, wills, protection orders (if applicable)

Money, bank book, ATM card, credit cards 

Clothes and shoes for you and your children

Any medication that you or your children usually take

Any evidence of abuse that you have collected

Phone numbers for trusted friends or family members, schools, nearest government hospitals and police stations, as well as AWAM'S Telenita helpline
Try to set money aside weekly. Make sure to save an amount that does not raise the perpetrator's suspicion and puts you in further danger

Leave when the perpetrator least expects it 
After You Have Left the Perpetrator
Create a false trail after you leave

Think about:
Getting an Emergency Protection Order (EPO) from the Social Welfare Department (JKM)

Filing a police report against the perpetrator and applying for an Interim Protection Order (IPO)

Developing and practising a safety plan for your workplace, e.g., using different routes to go home

Changing the locks in your home

Be mindful of who you give your new address or contact details to

Informing teachers and babysitters the names of people who are allowed to pick your children up. If you have an IPO, give them a copy for their reference 

Avoiding any places (shops, banks etc) that you used to go with the perpetrator

Avoiding use of shared credit or debit cards or joint bank accounts – if the bank statement is sent to the perpetrator's email or home address, they will be able to see the transactions that you have made
Safety Planning with Children
Let your children know that their first priority is to stay safe, and not to physically protect you

Let them know that the violence or abuse is not their fault 

Let your children know that you love and support them no matter what

Tell them that violence or abuse is never right

Explain to your children that you need to develop a plan for emergencies, because you want to make sure that they are safe 

Listen to them when they express their feelings without getting defensive. Be supportive even if they are not ready to talk about their feelings with you. Make a list with them of the trusted persons that they can reach out to to talk about their feelings 

Think of ways to help your children reduce stress and develop positive coping skills. This may include you looking for information and resources to help you understand your children's feelings and behaviours better, or connecting your children to support groups or therapy

Explain to them what is going to or may happen, and follow through – this can help increase your children's sense of safety and security
If your children can leave the house safely on their own, discuss with them possible places where they can go to and what they would say or do when they get there

Decide on a code word that you can use with your children as a signal for them to leave the house and get help 

If your children are unable to leave the house on their own to get help, identify and let them know safe places within the house that they can go to, and to call 999 when violence is taking place. You can practise with them on how to call 999 and what to say. Also teach them how to protect themselves by being a small target, in the event that they are targeted by the perpetrator

Instruct them to stay out of the kitchen, bathroom and other areas where there are dangerous (or possibly dangerous) items
When Using the Internet
Use strong passwords for your email and social media accounts that do not contain obvious information that the perpetrator can guess. Change them regularly. Do not write them down 

Always log out of your email or social media accounts. Do not just close the browser

Emails
Delete emails about you asking for help from your 'Sent' and 'Trash' folders

Make sure that your browser does not automatically save your email address and password

Do not open email attachments that you receive from the perpetrator, as they may allow them to instal spyware on your computer and track your emails
Be mindful about the articles, pictures or status updates that you post that can indicate where you are at any point in time 

For any harassing or threatening images or content that you receive from the perpetrator, document them and reach out to AWAM for more information on the next steps that you can take

Make your social media accounts private

Avoid including personal or identifying information on your social media profile, such as birth date, address or full name
Source: https://www.womenslaw.org/about-abuse/safety-tips/domestic-violence-victims/safety-abuser
How Can I Help Someone I Know Who Experienced Domestic Violence?
Look Out For Warning Signs of Domestic Violence
Below are some questions that you can answer to help gauge if your friend may be in an abusive relationship. If your answer is a yes to one or more of these questions, they may be warning signs of domestic violence. 
Does the person have any unexplained injuries, bruises or cuts?

Does it seem like the person cannot make any decisions without having consulted with their partner first? Do they look very worried about what may happen if they do not consult with their partner?

Is the person seeing you and their other family members/friends less and less?

Does it seem that the partner is jealous of your friend/loved one for no reason? Does your friend/loved one change how they act so that "they are not cheating"?

Is your friend/loved one constantly accused by their partner of cheating with others?

Do you feel that the person is doing whatever it takes to avoid getting into an argument or a fight with their partner? 

Is your friend/loved one always justifying and making excuses for their partner's actions?

Does the person always receive phone calls or messages from their partner? Do they always have to tell their partner where they are or what they are doing? Is your friend/loved one afraid of missing phone calls or messages that they receive from their partner?  

Is the person humiliated/insulted/criticised/belittled by their partner, publicly and/or privately?

Is your friend/loved one forced to do things that they do not want to do?

Is the person short of money to the extent that they cannot buy daily necessities for themselves and their children? 

Is the person excluded from household financial decisions or made to take out loans or forced to file false financial claims (e.g., tax, insurance) by their partner?

Has it been difficult for the person to get to work or go to university/school?

Has your friend/loved one been receiving threatening or harassing pictures or messages from their partner?
Support Them  
Dos
Listen to them. Let them know that domestic violence is not their fault

Respect the survivor's confidentiality. Keep their situation and whereabouts confidential – this will protect the survivor against the perpetrator 

Ask them what they would like to do and respect their choices. 

If the survivor is still within the abusive relationship, you can share with them what you know about safety planning

,

so that they can develop a safety plan for themselves and their children

If you are unsure on how to support the survivor, you can reach out to AWAM's Telenita helpline at 016-2374221 or 016-2284221 via direct call, Telegram or WhatsApp

Offer the person use of your address and/or mobile number to leave information and messages, or to look after their emergency bag of essentials   

Take care of yourself. Processing and receiving support for your emotions is also equally important
Don'ts
Do not ask questions such as 'What did you do?' or 'Why did you act/say this way?' that put the blame and responsibility on the survivor

Do not suggest to the survivor that they should forgive or reconcile with the perpetrator

Do not judge them for staying in the relationship

Do not force the survivor to leave the abusive relationship or house immediately

Do not confront the perpetrator, for your and the survivor's safety