What is Sexual Harassment?



Sexual harassment refers to an unwanted or unwelcome conduct that is sexual in nature, and may be committed physically, verbally, non-verbally, psychologically and/or visually, which may cause the person being harassed to feel humiliated, offended or threatened.
Sexual harassment can be perceived as a spectrum.
On the lower end of the spectrum would be conduct that is generally considered benign such as catcalling whereas on the other end, you will find severe acts of aggression and harassment such as aggravated stalking.
Where Can Sexual Harassment Happen?
Online; public transport; workplace; schools/universities; public spaces/areas (e.g. shopping malls, parks), home
Sexual harassment can happen anywhere and to anyone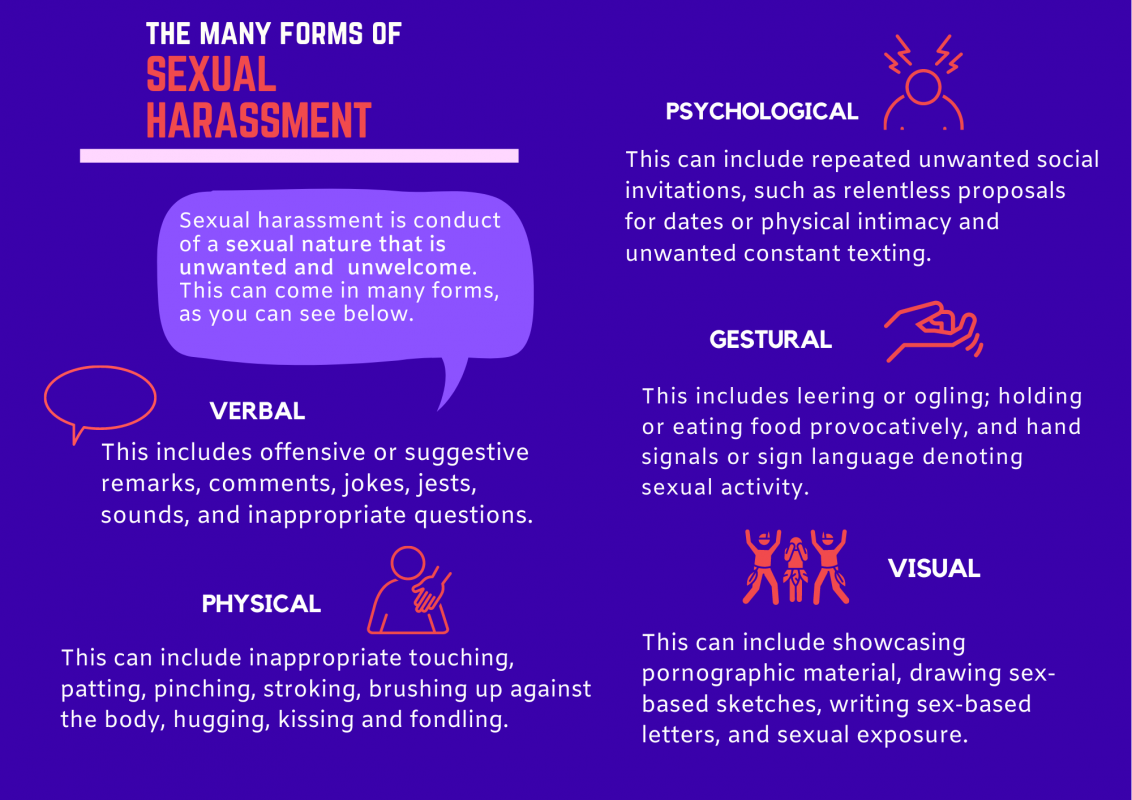 Online Harassment
Online sexual harassment – or "sexual cyber harassment" – refers to threatening or harassing messages disseminated via emails, instant messaging services, social media platforms or other digital materials that are posted online.
It usually targets a specific person either through direct contact or by the threat of disseminating personal information or materials that causes distress, fear, and/or anger.
Cyberstalking involves the use of electronic means to monitor or stalk a person unlawfully, threateningly or maliciously.
To know more about your legal options, call our helpline at 03-7877-0224.

REPORT TO MCMC
Frequently Asked questions to MCMC
Sexual Harassment at the Workplace
Forms of Sexual Harassment in the Workplace
What Can I Do If I'm Sexually Harassed?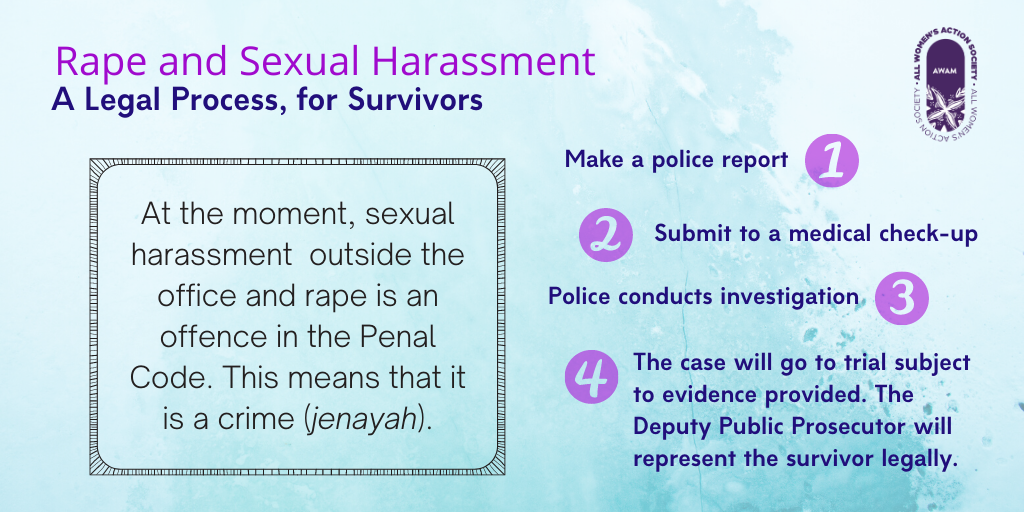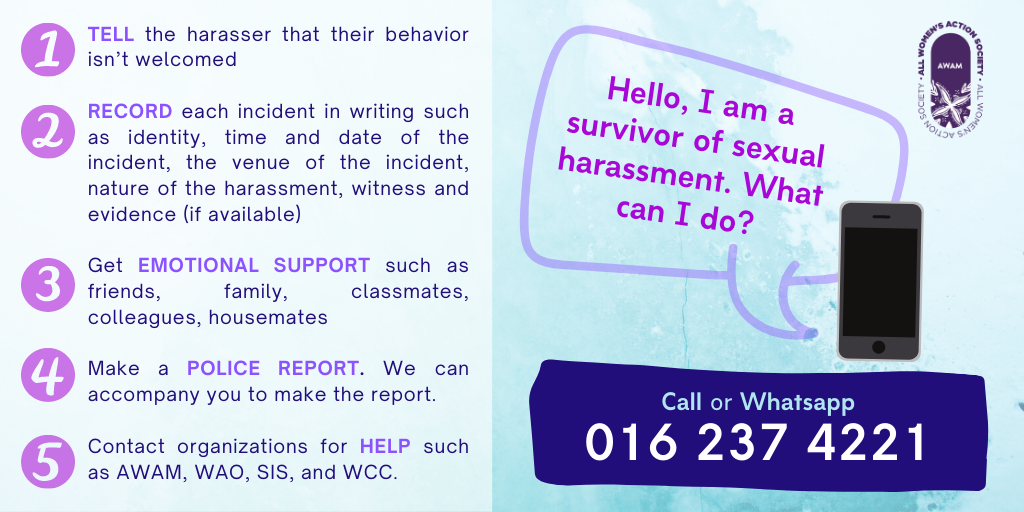 Section 2 of the Employment Act, states that "―sexual harassment means any unwanted conduct of a sexual nature, whether verbal, non-verbal, visual, gestural or physical, directed at a person which is offensive or humiliating or is a threat to his well-being, arising out of and in the course of his employment".
Under Section 81B (1), employers have a duty to investigate a sexual harassment complaint, unless an investigation into the complaint had been made before which yielded no findings, or that the employer believes that the complainant has made a vexatious complaint (the exceptions are listed under S81B (3). 
Based on Section 81C and 81F, the employer must conduct an inquiry, and upon receiving the results of the inquiry, take disciplinary action as listed under Section 81F.
In addition, several forms of Sexual Harassment (including Sexual Assault) is criminalized under the Penal Code.
Sources:
Edited by Anastasha Abraham & Natasha Franklin
[1]

https://www.womenshealth.gov/relationships-and-safety/sexual-assault-and-rape/sexual-assault



[2] https://www.forensicnotes.com/workplace-sexual-harassment/
[3] https://hbr.org/2018/06/its-not-always-clear-what-constitutes-sexual-harassment-use-this-tool-to-navigate-the-gray-areas
[4] https://privacyrights.org/consumer-guides/online-harassment-cyberstalking
https://www.eeoc.gov/laws/types/sex.cfm