What is Sexual Harassment?



Sexual harassment refers to an unwanted or unwelcome conduct that is sexual in nature, and may be committed physically, verbally, non-verbally, psychologically and/ or visually, which can or may cause the person being harassed to feel humiliated, offended or threatened.
---
Sexual harassment can be perceived as a spectrum. On the lower end of the spectrum would be conduct that is generally considered benign such as cat-calling whereas on the other end, you will find severe acts of aggression and harassment such as aggravated stalking, sexual assault and rape.
At present in Malaysia, the only acknowledged form of Sexual Harassment is listed under the Employment Act. This relates to Sexual Harassment at the Workplace. Several forms of Sexual Harassment (including Sexual Assault) is criminalized under the Penal Code.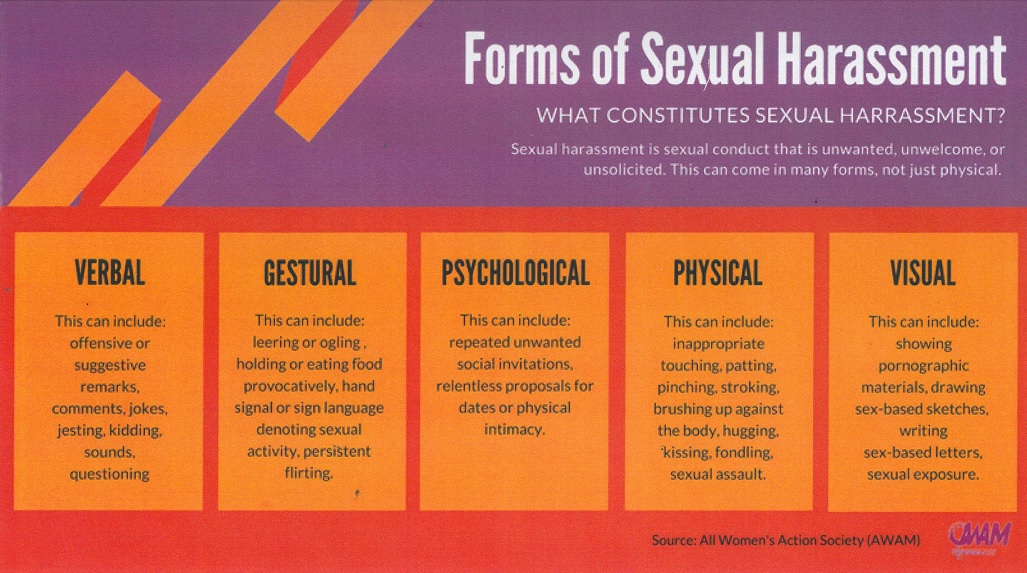 Forms of Sexual Harassment
There are various forms of Sexual Harassment:
Physical, Verbal, Nonverbal, Visual, Psychological, Online.
Online Harassment or Cyber Harassment

Online sexual harassment  – or sexual cyberharassment – refers to threatening or harassing messages disseminated via emails, instant messaging services, social media platforms or other digital materials that are posted online. It usually targets a specific person either through direct contact or by the act or threat of disseminating personal information or materials that causes distress, fear, and/ or anger.
Cyberstalking is an exaggerated form of online sexual harassment, involving the use of electronic means to monitor or stalk a person unlawfully,threateningly or maliciously.


To know more about your legal options, call our helpline at 03-7877-0224.

REPORT TO MCMC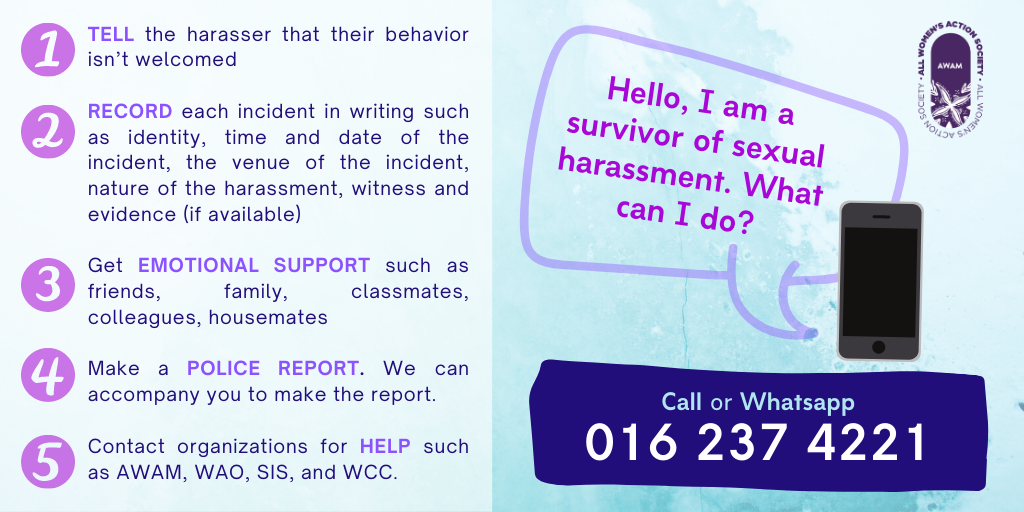 Types of Sexual Harassment