Opening Speeches | TGMW Workshop | Artist Panel | TGMW Video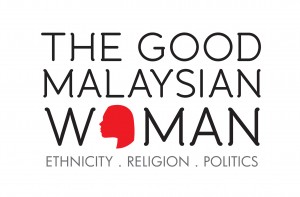 What does it mean to be a 'good' woman in Malaysia? Who defines what is 'good'? Twenty-two artists presented their artworks in response to the idea of what it means to be a 'good' woman in society, addressing issues of identity and self, community and nationality. A workshop and panel talk were held in conjunction with the exhibition. This was a collaborative effort by AWAM and interpr8 Art Space. Below are some of the highlights.
The Exhibit took place at Black Box, Publika on 17-25 May, 2014
CLICK HERE FOR TGMW FACEBOOK PAGE

Opening Speech by AWAM's Cecilia Ng
Cecilia Ng spoke on behalf of AWAM during TGMW opening ceremony on 17 May 2014. This is an excerpt from her speech.
Thirty five years ago, when I, and many of us of this generation, began our journey in advocating for women's rights in Malaysia, I would never have imagined standing here tonight making a speech at an art exhibition. In fact, it sometimes feels like a different lifetime then, where the language of 'women's rights' was hardly in circulation – those of us who were involved came together because we realised that there was something unjust in society, and that this was making women's lives miserable. We wanted to do our part in making things better for both women and men.
Indeed, from the days when we first started, the women's movement as a whole, and AWAM in particular, has come an incredibly long way. Like several other women's groups in Malaysia today, AWAM began out of a campaign in 1985, to address issues on violence against women. At that time, this subject was hardly spoken about, let alone, understood as a serious matter worthy of the government's attention. We wanted that to change and fought for better laws relating to rape, domestic violence and sexual harassment. That struggle continues till today.
Fast forward to 2007: confronted with the growing ethnic and religious divide in the country, some of us in AWAM felt that just as we took on the important issues around violence against women in the 1980s, it was time to take on issues around the politicisation of ethnicity and religion in the country. This was a time when we started to witness a changing public discourse, one that would for example, tell women that they could not dress or behave in particular ways because this contravened 'cultural and religious' values.
We were also disturbed by the trend of dividing women's groups as 'Muslim' and 'non-Muslim', and claiming that the latter had no say over anything to do with the former. We have always understood the work that we do to be inclusive of all women, regardless of class, age, geographical location, sexuality, and yes, ethnicity and religion.
The quest to popularise the subject of the politicisation of ethnicity and religion – itself a mouthful to pronounce – and its implications on women is something that AWAM knows will take a long time. Nevertheless, we are hopeful that just like how violence against women has been successfully mainstreamed into public consciousness today, there will come a day when people understand that to ensure the future well-being of this nation, we need to do more to stop the dangerous combination if not abuse of ethnicity, religion and politics.
Currently, our work in this regard takes a two-pronged approach: first, to raise public awareness, and second to build bridges across cultural divides. This art exhibition is part of our public education work. This is the first time that AWAM has used the medium of art for this purpose. We chose this option because we thought that this was a good way to generate thinking and discussions around a very complex and challenging subject matter, 'The Good Malaysian Woman: ethnicity. religion. politics.'
We are honoured and extremely delighted that we have had the opportunity to work with artists and curators who support our efforts at questioning and deconstructing, limits placed on women. It has been an invigorating and insightful journey for the past 12 months. We have already reached new heights with the publicity campaign around this project – for those of you who are on Facebook, you will no doubt have seen some of this online, and for those of you who frequent cafes in the Klang Valley, you would have seen our very popular posters and postcards too.
We especially wish to thank the curators, Sharmin Parameswaran and Sunitha Janamohanan, for having persevered with us, and our own restrictions, throughout this time. They have played a key role in being the bridge between the artists and AWAM. I have also been informed that in many ways, they have made this exhibition possible. So please join me in extending our sincere appreciation to them and all the artists and everyone else, especially the AWAM organising team, who have contributed towards making this event a success.
Do enjoy the exhibition. But more importantly, perhaps, we hope that you will take home something different from your experience here. And that what you see and hear will spark many conversations and debates on the timely subject of how ethnicity, religion and politics impact on women in Malaysia today.
Cecilia Ng is a founding member of AWAM and long time advocate of women's rights in Malaysia. She is passionate about movement building, in particular across the different sectors of women (and men) in the country. In her past life, that is, before retirement, she worked as an academic in a public university and has written numerous articles as well as co-written the book Feminism and the Women's Movement in Malaysia: An unsung (r)evolution. As all good Malaysian women, she has continued to contribute to the nation post-retirement, in the ever-eternal hope that one day, there will be justice and equality for all. She is currently on the Board of Directors of the Penang Women's Development Corporation.
Keynote Speech by Zainah Anwar
Zainah Anwar was invited as the keynote speaker for TGMW opening ceremony on 17 May 2014. This is an excerpt from her speech.
Thank you AWAM for inviting me to open this wonderful exhibition. I think they invited me cos they know what a bad Malaysian woman I am. And they are right.
I want to share a secret with all of you tonight. When I was young, I wanted to go to hell!! I had no interest in heaven – who wants to be in heaven with boring good Malaysian women and men with beards and turbans?! Oh no, I wanted to be in hell because my agama teacher said all kafirs would go to hell. And that was the time when I was in love with so many kafirs.
There was George Best, that utterly gorgeous bad boy superstar goal scorer of Manchester United. I dreamt of him every night and devoured every picture and article on him. There was Robert Vaughn who played Napoleon Solo in the Man from UNCLE. He was so handsome, dapper and such a lady's man. And of course there was Paul McCartney, the cutest of the Beatles. He just melted my heart over and over.
My bedroom walls were plastered with their pictures and posters and I went to sleep every night looking up to them. And since they were all going to hell when they died, I wanted to be in hell too cos that seemed to be the only way I could be with them.
I was bad, too, because I was not a lady. The neighbours, the relatives, the teachers all said I was such a tomboy. I played very rough on the field, knocking opponents down in netball games and playing catch, I climbed to the top of trees to pluck rambutans and jambu, I swam far out into the sea without any care to the world, and I hung upside down from tree branches, and swing back and forth watching the world go by–upside down.
And oh yes, I was bad also because I had problems with authority. From young, I was never scared of authority – be it my parents, my teachers, the ustaz and ustazah, the adults. I was always questioning things that did not make sense to me. The adults might have thought I was being irritating or a smart aleck, because good Malaysian girls don't ask why. But I really truly wanted to understand why.
It didn't make sense to me that my brother did not have to do housework just because he was a boy and I had to help my mother in the kitchen and sweep and mop and make the beds because I was a girl. But why, why, why I kept pestering my mother. It was just so unfair.
It didn't make sense to me when I learnt in history class that Stamford Raffles was the founder of Singapore when there was already a Malay Sultan and a Malay community living along the Singapore River. I pestered my teacher and she got mad at me and told me to stand outside the class–in the hot sun.
It didn't make sense to me why 2 pie r is the circumference of a circle. I wanted to know how that formula was derived and what the hell pie was and where it came from? My Maths teacher of course did not have the answer and told me to shut up. So in frustration, I went to the back of the class, sat in an empty chair, rocked back and forth with my head hanging over the back of the chair and snored loudly to show how bored I was with her.
Yes, I was that bad. So as beng hui mentioned, when a journalist asked if I was a born leader, I answered no, I was a born rebel. I was born to be bad. I was clueless about being a good Malaysian woman, let alone a good Malay Muslim girl, and God forbid, a good wife. All totally over-rated.
So let me share with you another secret. It is really fun to be bad. Cos you get to be you, you get to break rules, you get to define your own life, your own parameters. Oh yes, you get punished along the way, and I was plenty punished, in school especially, but when you are bad, punishments don't get you down, it's que sera sera. Life goes on.
Who wants to be the good Malaysian woman who is polite, obedient, always trying to please someone else? I just cannot imagine leading a life that is not mine, a life defined and circumscribed by others. That is performance for the approval of others, not living. But some people are happy performing, and that's fine with me. But when you are burning inside for not being able to make the choices you want, then do something. Break out, speak out.
This society pays too much premium on conformity and obedience – in family, in the community, in school, in the workplace, in politics. Thank God, times are changing and many young women today are no longer cowed into silence when their rights are trampledon. Perhaps for us older impatient feminists, change is not taking place fast enough.
But change is palpable all around us. Not least with the art works in this exhibition – certainly questioning, searching, redefining what is the good Malaysian woman, and coming out with different and diverse answers and interpretations – some clear cut, some cagey and mysterious.
So congratulations, AWAM, for having the balls to go on this journey of re-defining what good can mean in the context of the realities of our lives today. And to the curators and artists for taking up this challenge.
When we want to bring change to make this world a better place, being a good woman as defined by others, being a conformist in order to win approval hollows out the soul.
So you can all choose to be good girls and perhaps go to heaven, or to be bad girls and make history.
Zainah Anwar is no stranger to advocacy and women's rights. For many years, she was the most well known in Malaysia as the public face of Sisters in Islam. Today, her fame has grown internationally through her work in Musawah, the global movement for equality and justice in Muslim families. It is no secret that she is one of the strongest opponents of patriarchy and the use of Islam to discriminate against women. She may be far from the "perfect" Malay woman, but she is a born leader. For this reason, TGMW Art Exhibit was happy to have her speak about her experiences and what "the good Malaysian woman" means to her.
22 May 2014: Workshop for Young Women
As part of "The Good Malaysian Woman: ethnicity, religion, politics" week-long art exhibition sponsored by AWAM and interpr8 Art Space, AWAM's Committee on the Politicisation of Ethnicity and Religion (PER) held a special workshop for young women entitled "The Good Malaysian Woman? Exploring Expectations" on Thursday, 22 May 2014. This workshop took place in the Black Box art space inside Publika from 6:30 to 10:00PM. About 15 young women from various backgrounds participated. Beng Hui gave a quick introduction to AWAM and PER's work, while Sunitha Janamohanan (one of the curators) introduced the artists and their pieces. Susanna George acted as facilitator throughout the evening.
The workshop was divided into three activities—Clean Space, Group Discussion, and Closing Circle. The Clean Space exercise, in particular, allowed participants to interact with the art pieces spatially and emotionally. Susanna encouraged the participants to think of the various art works in relation to their own personal experiences. This produced some interesting discussions. Some recurring themes in the discussions included the definition of "good," pressures from family and society, the role of religion, and stereotypes.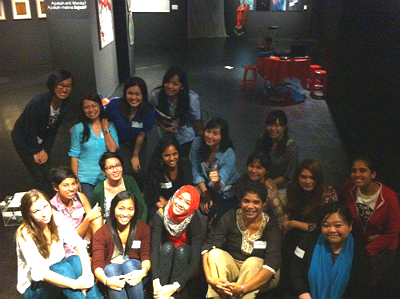 Susanna with the young women who participated in the workshop
Overall, the exercises seemed to have left a positive impression with many of the participants. Many have even expressed their interest in continuing the conversation beyond the workshop and with their peers. The participants were especially appreciative of the safe space to share their opinions freely. AWAM looks forward to exploring other activities to provoke such conversations with young women in the near future!
24 May 2014: Artist Panel
Some would say an artist's role is to convey messages that reflect our surroundings and life. Whether as social critique or as visual celebrations of humanity, art is always made in these contexts. How do artists negotiate the boundaries of belonging, meaning and power in the different domains of social, political and cultural life? In this discussion, a panel consisting of the artists from the exhibition talk about their practice while navigating through the complex landscape built by a nation that is deeply invested in defining the boundaries of (un)acceptable norms of what makes a "Good Malaysian Woman". The session was moderated by Jac sm Kee, a feminist and activist. Around 25 people came and participated.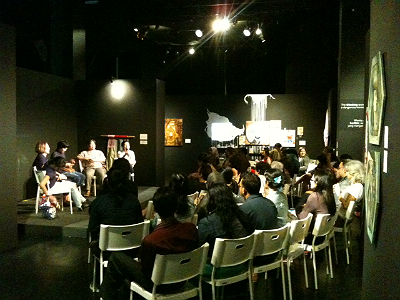 The artists discussing their work