AWAM is a member-driven non-profit working at the local and national level. We have a small number of staff who help coordinate and direct the implementation of projects and events as well as see to the daily running of the AWAM Centre. Our organisational structure emphasises the principles of collectivism and open participation. At the heart of it lies the Working Collective, a body of active members of AWAM who come together monthly to take stock of the organisation's work and ensure that it coheres with our larger vision and direction. That direction is determined by AWAM members in annual evaluation and planning meetings as well as the Annual General Meeting. In line with ROS requirements, AWAM elects our executive committee every other year at the AGM and these office bearers serve in their posts for two years before re-election. Executive committee members and members of staff both sit on the Working Collective.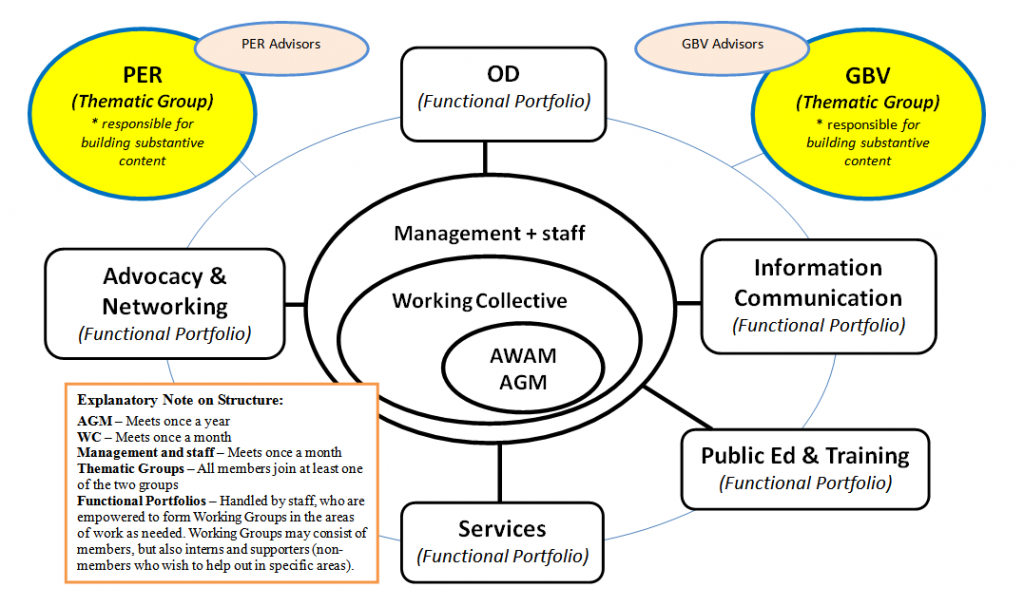 Programmatic and organisational development work happen within AWAM's thematic and functional groups. AWAM has two thematic groups focusing on Gender-based Violence (GBV) and the Politicisation of Ethnicity and Religion (PER) respectively. They are responsible for developing content and providing substantive input on the two core themes of AWAM. All members are invited to join at least one of these groups.
AWAM has five functional portfolios which are coordinated by staff and serve to support and direct the organisation's programmatic work and general institutional needs and responsibilities. These are:
Advocacy & Networking (ADV): networking with state & civil society actors, lobbying, movement-building, coalitional campaigns
Information & Communications (INF): media statements & monitoring, research & publications, website & social media, branding & publicity, resource library
Organisational Development (ORG): fundraising, membership development, upkeep of AWAM Centre, admin & finance, organisational events, management
Public Education & Training (PUB): organisational campaigns & events, external & internal trainings
Services (SER): counselling, legal information, case management, compilation of statistics and cases for advocacy
One or more working groups may be established under a functional portfolio either on a permanent or ad hoc basis to handle specific tasks related to that function.