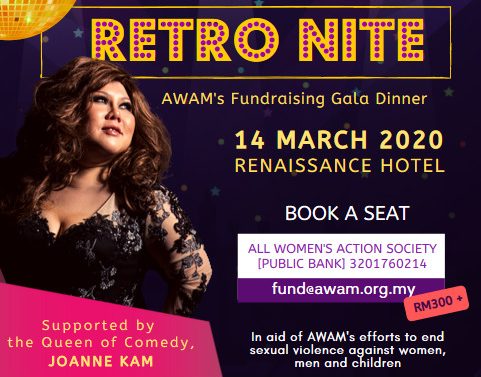 In the last 35 years, AWAM's work has been focused on victims and survivors of gender-based violence (GBV) such as rape, domestic violence, and sexual harassment by providing them services FREE counseling and legal information irrespective of gender. Annually, we receive no less than 200 cases a year with an average of 10-20 calls coming through our helpline every week.
Beyond services, we also conduct public education activities such as training and outreach with the aim of establishing a movement of people who are aware of the rising social issues centered on gender-based violence – and who want to be part of the solution.
CALL FOR SUPPORT

AWAM must raise a total sum of RM350,000 in order to continue working towards making our community happier and healthier through better communication and access to gender equality and human rights.
In the last few months alone, AWAM has received multiple cases of sexual offenses against children, the youngest not even 7 years of age. We must come forward to raise awareness and provide assistance in unmasking the damage done to the individuals and families who have experienced violence.
In March this year, AWAM will be organizing a fundraising gala in conjunction with 30 years of service. The funds raised here will be channeled towards a nationwide education campaign aimed at reducing incidents of violence and harassment.
As such, we would like to invite your organization to support survivors of gender-based violence via our mission to realize healthier communities through gender equality by purchasing a table or 10 tickets.
BENEFITS TO CORPORATES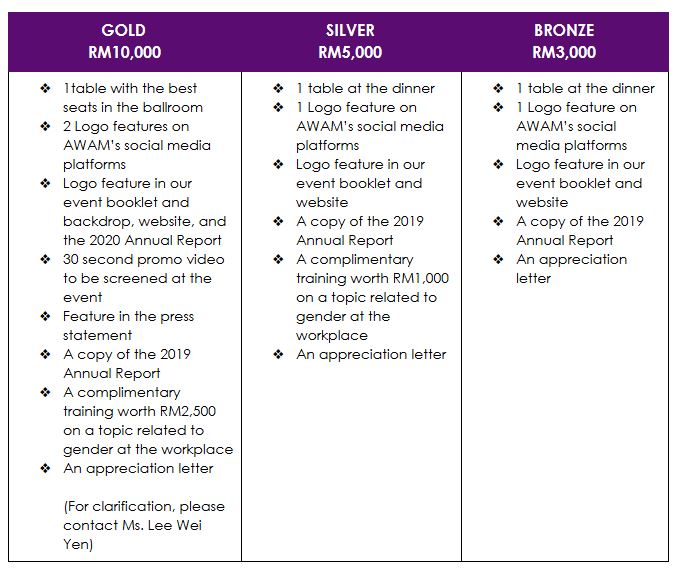 For more information,
call us at 03-7877 4221,
or email us at
fund@awam.org.my