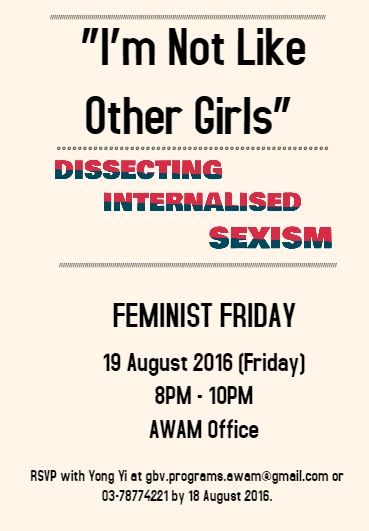 ​
"I don't like that movie, it's a chick flick."
"Ew! Pink is so girly!"
"I don't wear make up. I like being real."
Heard statements like this before?
When we think of sexism, we often think about how external factors oppress women. However, we don't realise the role that we ourselves may play in perpetuating sexist messages and stereotypes.
Can women be sexist to other women? How does it affect the way we perceive each other?
Join Tara and Evie on 19th August (Friday) 8.00 – 10.00 pm at AWAM Centre for an interactive and open discussion on internalised sexism and the ways in which we can address and deal with it.
RSVP to Yong Yi at gbv.programs.awam[at]gmail.com by 18 June 2016 (Thursday).
For a more conducive discussion, there will be a cut off time of 8.30pm. Light refreshments will be served.