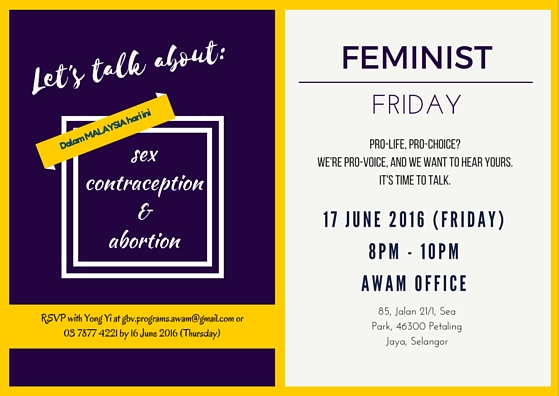 Putrajaya's abstinence-focused sex education module has so far failed to help raise awareness of safe sex among a majority of youths, a Malaysian Youth Sexual and Reproductive Health (SRH) survey commissioned by Durex Malaysia recently revealed.
Despite the introduction of Sexual Reproductive Health education in schools, the survey found that pregnancy myths remain prevalent with many admitting to not knowing the importance of protection to prevent pregnancy. The survey also found that a significant number of youths thought protection during sex was unnecessary (yes it is), and that a woman will not get pregnant if she has sex during her period (yes she can).
Can I get contraception if I am single? Is abortion legal in Malaysia? What is Sexual & Reproductive Health and Rights?
Come hang out at AWAM's Feminist Friday on 17th June 2016 between 8 – 10pm with Dr Subatra Jayaraj and Lee Wei San from AWAM and ask all the questions you have always wanted to know.
RSVP to Yong Yi at gbv.programs.awam[at]gmail.com by 16th June 2016 (Thursday). For a more conducive discussion, there will be a cut off time of 8.30pm.
Light refreshments will be served.