INDIA, FOR THE WOMEN OF INDIA by Amita Modi
India is seen as an upcoming nation, ready to cross over from the ranks of developing nations and join the league of developed countries. But has an average Indian woman really experienced a change, a change for the better?
Today there are numerous opportunities for women to fulfill their dreams and work to their full potential. On the one hand opportunities are being created, but on the other hand, there is a stark failure to provide a secure environment for women to fully avail of them. There is a lot of awareness about crimes against women but nothing concrete has been done to stop these or at least reduce them. Years ago women were scared to speak up on these sensitive issues, the situation is almost unchanged even today. The laws make the victim go through immense mental torture due to endless legal procedures and there is always the social stigma attached to it. Justice delayed is justice denied; only a quick system of dispensing justice will act as an effective deterrent to prevent crimes against women.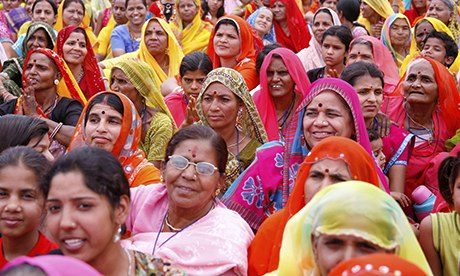 It is common these days to have women heading MNCs, banks and reputed educational institutions, but we cannot ignore the fact we have 'Khap Panchayats' issuing harsh judgments that ruin a woman's life in the name of social justice. Child marriages, honour killings and dowry still plague the Indian society and the irony of these practices is that, they are done in the name of family honour and tradition. A recent survey has shown that India has the largest number of child marriages in the world. Unfortunately, it is the women who have borne the brunt of these regressive practices for decades and continue to do so.
The problems and challenges faced by rural and urban women manifest themselves in different forms but the effect they have are the same. They create a sense of fear, inferiority and frustration, which often leads to suicidal tendencies and depression. Women in the rural areas are often completely denied the right to education, to suppress them, as it is believed that education will make them arrogant. Even today we have women walking miles to fetch water for the family, giving birth in the most unhygienic conditions thereby endangering their lives, facing domestic violence, helplessly witnessing female foeticide and being blamed for every misfortune that falls upon the family.
The urban culture facilitates education for women but they often face harassment at the workplace and are denied opportunities to move up the corporate hierarchy, citing reasons like family commitments that will hamper their performance. Women have time and again proved that they can successfully strike a balance between their homes and careers. Yet, they continue to have to struggle to prove themselves.
Traditionally, the Indian society has worshipped women in many forms. But, our beliefs and actions contradict each other. Problems faced decades ago are still prevalent, no matter how many challenges a woman overcomes; there are more around the corner all the time. It is high time words are put into action, 'We need to walk the talk'.
I feel we would have achieved a milestone when it will be impossible to find a lawyer to defend a person accused of any crime against women, let alone bypassing the legal system and helping the accused get away. Strong political representation and an education system that sensitize the next generation towards women is the need of the hour.
WRITER'S PROFILE: Amita Modi is from Mumbai, India and is a teacher by profession. She has been teaching in International School Singapore for the past 3 years, and conducted science workshop prior to that. Her hobbies are reading, travelling and cooking. She thinks that e-WAVES is an excellent platform to discuss contemporary issues and  is glad to have gotten a chance to contribute and looks forward to continue doing so. She recently located to KL after being a resident of Singapore for 8 years.
Click here for the full publication and other articles.