A Fun, Fantastical Female Experience: The Women Deliver 2013 Conference by Milan L. Sadhwani
I was going to write about the strategies I learned from the Women Deliver conference in Kuala Lumpur last month. In fact, I was in the middle of writing about Feminism and Fear when I received Susanna George's submission called Feminism – A Rose By Any Other Name and thought damn, that wily old advocate of feminism beat me to it! Then I realised that my Women Deliver experience had been much much more than just strategies and campaigns. Sure there were fantastic workshops, lectures and talks with great content but what really stays with me even until now, a month after the conference is the amazing people I met. I was touched by the countless women (and men) I met from all over the world while they convened for the first time ever in Asia. I was in awe and delight the whole time, like a small kid at Disney World, taking in the different sights, sounds and smells of an event of such pomp and scale. The organisers did a great job putting together the three-day conference that attracted over 4,500 experts and advocates from more than 160 countries. Activists, health-care practitioners, advocates and individual women who through their dedication and compassion serve their community by empowering women convened together to focus on on-going challenges to improve the health and well-being of girls and women.
I was inspired by AWAM's former president Dr. Mary Cardosa aka Chang's passionate talk about reproductive rights and her quest to bring this to our country. 'Chang', as she is fondly known to close friends and associates was the first woman to ever hold the position of president in the Malaysian Medical Association (MMA), making history back in 2011. Listening to her talk made me understand how poorly abortion is understood in Malaysia and how pervasive the myth is that abortion is illegal over here.
I learned about digital story-telling and how empowering it is for someone to tell their story and take ownership of it. Stella Paul, award-winning journalist from India told us how she gave a sex-worker turned activist the peer support she needed to learn how to use a computer so that she could tell her story to Stella.
"It's not about slick gadgets or fast Internet speed, it's about spreading the technology to those who need to tell their stories, "said Stella. Without Stella, Jayamma Bandari would not have been the warrior of dignity she had become; turning away from sex work to a life of helping sex-workers in her city – offering peer support, safe-sex counselling and assisting them in getting tested and treated for HIV/AIDS. She also helps these women open bank accounts.
Ahmad Awadilla, a Sexual and Gender-Based Violence Officer doing Refugee Assistance in the MENA region says that he is always aware about whose Voice is being represented in a story.
"I have to question my voice all the time – as a man," said Ahmad who blogs about gender and sexuality issues. "To be honest, I don't belong to those groups, so I'm very conscious. It's not easy to write about gender and sexuality issues in our (MENA) context – thus the very act of writing and journalism is activism, "Ahmad concluded. Founder of Her Zimbabwe, an online portal that houses opinion pieces from Zimbabwean women, Fungai Machirori explains how even social media ownership is concentrated in the hands of few men, mirroring the structure of traditional print media.
"Women are social media consumers but not the producers. Women are not visible properly in the media, "Machirori says. The question to be asked, she stresses is who are these women who use social media? Are they the grassroots women, the one whom are frequently labelled illiterate, rural and have no access to resources? It really paints a bleak picture of the digital divide that exists between those who can access Google and Facebook versus those who can't. The truth is, Machirori tells us is that access to the Internet or social media platforms remains a privilege in Zimbabwe, especially if you are a woman. Women's issues and lives are poorly documented, if at all. Women, especially the younger generation are blogging to escape censorship issues and to promote social consciousness.
Her words gave me hope and made me imagine the possibilities of one day having a Her Malaysia webzine for young Malaysian women to pen their thoughts down to inspire a wider audience.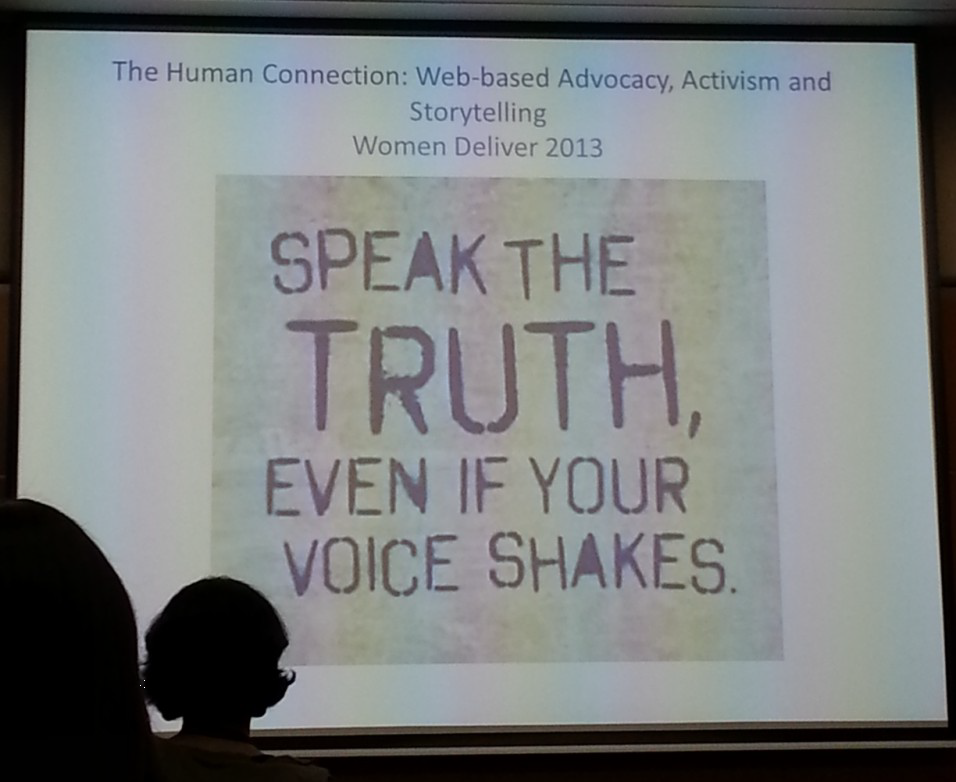 The plenary talk on the first day of the conference titled Women Lead Opportunities and Challenges made me think about transformative leadership. The plenary was moderated by the gorgeous Ghida Fakhry Khane, famed News Anchor for Al Jazeera. Such a tough lady in a tough world! She left an impression on me with her quick wit, humour and powerful charisma while she effortlessly weaved questions and answers from the panel that consisted of philanthropist Chelsea Clinton, former president of Finland Tarja Halonen, Planned Parenthood Federation of America president Cecile Richards and former United Nations special rapporteur on Violence Against Women Yakin Erturk. Chelsea Clinton brought tears to my eyes when she shared stories of the hardship her grandmother went through as a child, born to teenage parents who could not afford a child thus leaving her abandoned twice before the age of eight. Chelsea related how her grandmother was put in a train from Los Angeles to Chicago with her two-year-old sister when she was eight. She was expected to survive on her own as an adult, which made her all the more determined to provide a better life for her future children and grandchildren.
"I share all this because she was so determined to create a life for her children that only existed in her imagination, to create a house full of love and support so that her children, particularly her daughter, could grow up and be anything she wanted to be in America," explained Clinton. "I think of my grandmother everyday – and I think about whether these women and girls have support and community with them. Do they have someone who believes in them?" Chelsea concluded and I nodded along with her, because I too believe that all it takes to empower a girl and a woman is to have someone believe in her.
My beliefs were confirmed the next evening when I sat down to catch the first ever live screening in Asia of the blockbuster movie called Girl Rising. I can spout the statistics for you – more than 200 million women around the world say that they don't want to have a child but are not using contraceptives. In Nigeria, 75% of girls are married before their 18th birthday. A girl with an extra year of education can earn up to 20% more as an adult. The estimated economic loss in countries that do not educate girls to the same level as boys is $92 billion annually. I also know that "numbers count but people count more," something I learned from Women Deliver. I strongly urge every person to watch this film that was aired on CNN just a few days ago. It will inspire, move, educate and push you to realise the power that lies within, not to mention the power that is unleashed when girls have access to basic resources.
I also managed to escort author Michelle Goldberg to a forum in one of the grand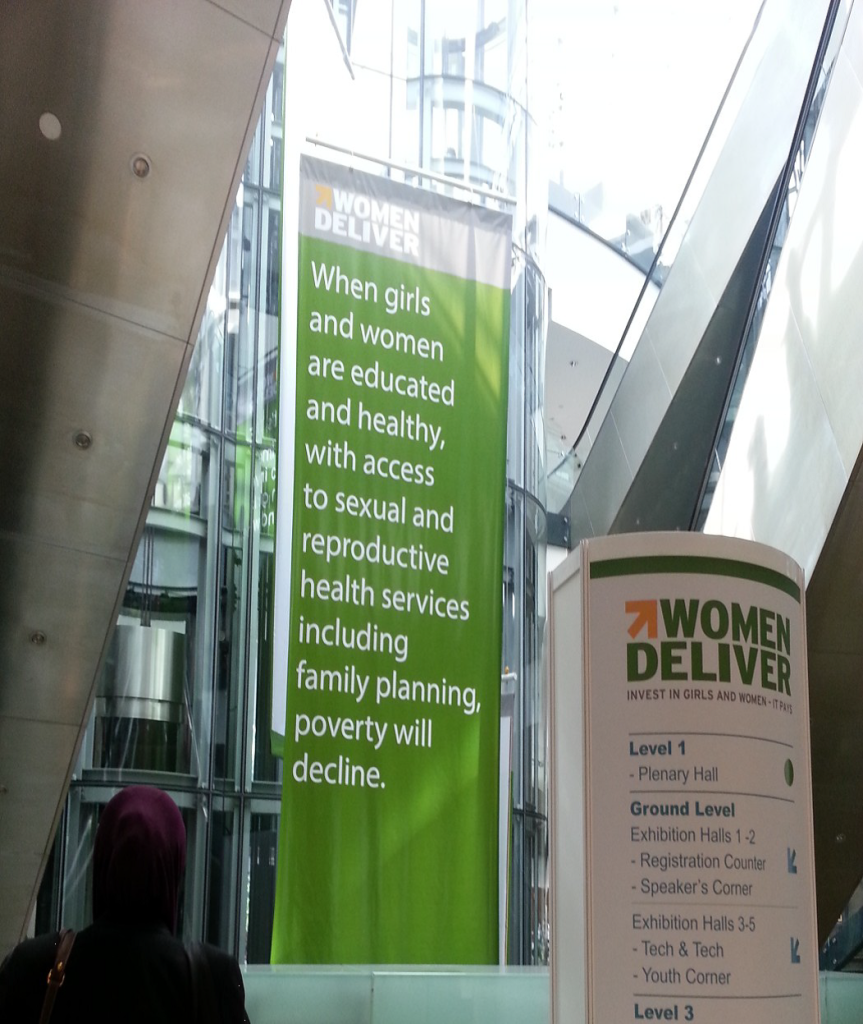 ballrooms after I practically stalked her from an exciting morning plenary where she played the awesome moderator. Yes folks, there are fan girls even within the women's movement. Yours truly disconcerted the famed author of 'The Means of Reproduction: Sex, Power and the Future of the World' by gracefully squealing her name in a high-pitched voice upon meeting her face-to-face. Needless to say, I embarrassed myself thoroughly but it was worth it just to talk to her and ask her what it was like writing a book of such magnitude and depth. I deeply admire Michelle as a writer and I'm grateful to Women Deliver for giving me the opportunity to meet her. Michelle's book gave me valuable insight into the politics of sex and childbearing while I was still a lost soul finding my way in the confusing and exhilarating world of the women's movement.
While I was certainly taken by all the big and important people up on the stage and those who took to the microphone with such passion and conviction, I was nonetheless also inspired by the people around me, whom I had the pleasure of meeting face-to-face. I mingled with familiar faces, those who were as equally excited as I was to be there, albeit worn out from the intense conference schedule that had us walking briskly from room to ballroom, plenary to workshop, hopped up on caffeine and rushes of pure adrenaline. I also had the pleasure of meeting new people by walking around the exhibition halls that were set up for those looking for new opportunities. Remmy Shawa, the young man I bumped into who works at Sonke Gender Justice in Cape Town, South Africa enlightened me on what it was like to lead a life of activism and working with non-governmental organisations in Africa. Later at the conference, Remmy was awarded the first ever 'Rising Star Award' by Women Deliver president Jill Sheffield and Bill and Melinda Gates Foundation co-chair Melinda Gates. As he climbed the stage to receive his award, I was struck by a moment of pride and a beautiful thought came to me: We are all Rising Stars.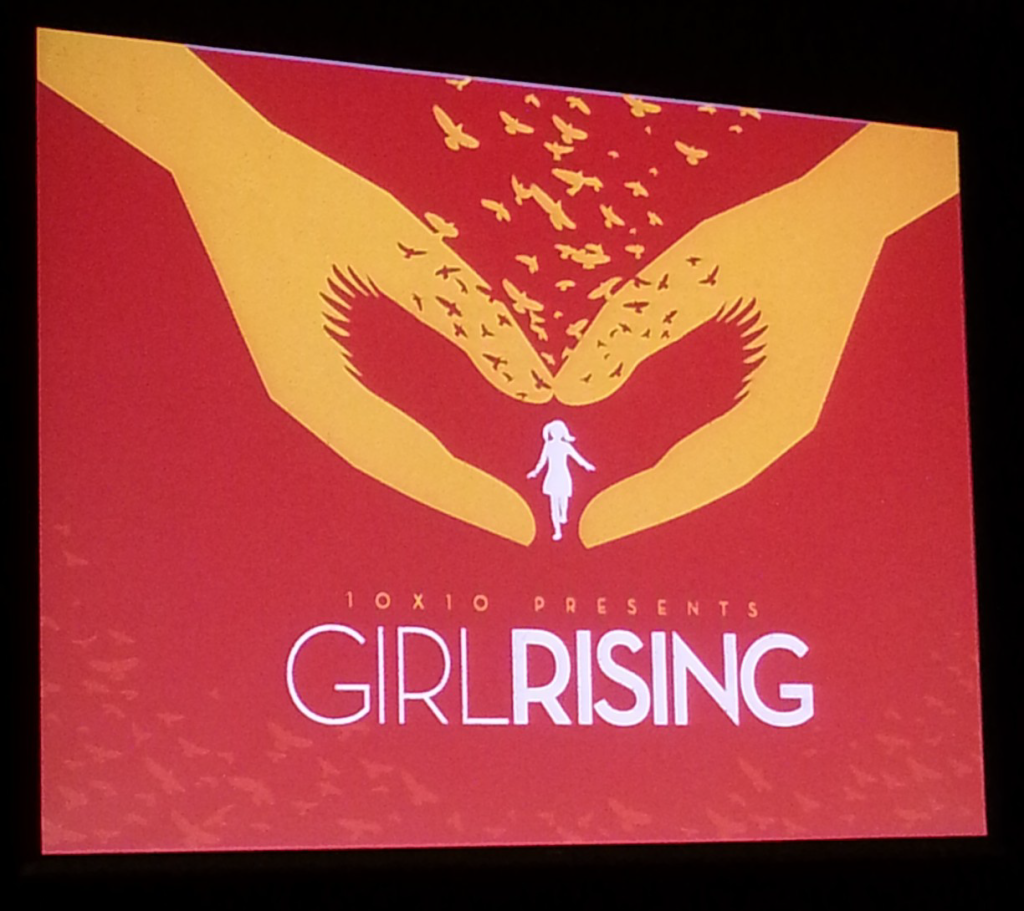 Aside from meeting famed writers, I was motivated to meet a wonderful young lecturer residing in America who had just finished her book entitled 'Your Fatwa Does Not Apply Here' due for release this August. Karima Bennoune travelled the Muslim world to hear eye-opening accounts of heroic resistance to religious extremism from a diverse global community of writers, artists, doctors, musicians, lawyers and many more. I was inspired by her courage, determination and faith for pursuing this project to the end. Our encounter was brief but meaningful and I walked away determined to write my own book someday.
The Women Deliver conference, to me, was the ultimate female experience. It affirmed my belief of utilising and channelling your emotions and how you react to situations for the greater good. By using the anger, frustration, sadness and hopelessness you feel to drive you to do something that is bigger than your selves and the world, only wondrous things can happen. These women channelled their anger into useful endeavours and I was blown away by the results it produced. I'll leave you with a quote that rang in my ears long after the conference was over: "It is only small pockets of courage that will lead to a revolution. It does not start overnight, but it starts today."
Milan L. Sadhwani has denounced the feminist label in favour of a label that she feels is more inclusive: humanist. Having said that, she's always up for a conversation about gender and sexuality, not to mention breaking out randomly in song and dancing around in the AWAM centre. You may send any comments and feedback to milansadhwani@gmail.com 
Click here for the full publication and other articles.