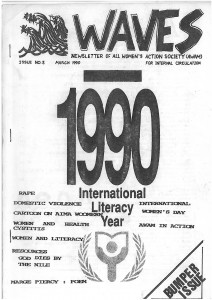 A long, long time ago, The All Women's Action Society published a newsletter called WAVES where members and friends had the space to write about relevant issues concerning women and feminism in Malaysia.
Its 2013, and AWAM has decided that its time to ride some new waves again and would like to resurrect this newsletter in the form of e-Waves!
We're so excited about our first e-Waves and are calling out for writers to submit articles, opinion pieces, musings, thoughts, and rants by the 12th of June.
The theme for our first e-Waves newsletter will be Exploring the F-Word.
If you're interested, please contact us at awam@awam.org.my.