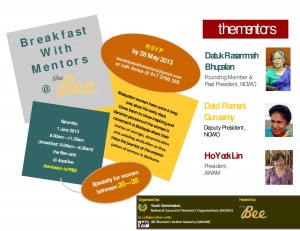 Lend them your ears and through their very own powerful words, take a gentle walk through the journeys of three inspiring women in this innovative and intimate transportation into the world of Malaysia's women movement. Come join us Saturday, 1st June for this exciting journey. Come with open hearts, minds and souls and get ready to be inspired.
AWAM, in collaboration with the National Council of Women Organisations (NCWO) will be hosting a 'Meet the Mentors' session next Saturday specifically for girls aged 20-35. Details as follows:
Date: 1st June (Saturday)
Time: 9 AM (Breakfast served)
9.30 AM (Event commences)
Venue: The Bee, Jaya One
There will be three speakers, all of whom share a rich tapestry of historically significant events that have long since only lived in their memories. We will get to uncover all these stories and more when we take a walk down memory lane with Datuk Bhupalan, Dato Gurusamy and Ho Yock Lin as they guide us through important milestones of the women's movement in Malaysia. Do join us on this day and bring a friend or two along!
Please RSVP by calling Anisa 017 376 0256. You can also RSVP via e-mail: breakfastwithmentors@gmail.com
If you don't fit the age criteria, do not despair as we have plenty of other events for you. Do pass on the word to a woman or two who would be eligible so that they can benefit from this.
We look forward to your presence and hope you can join us!