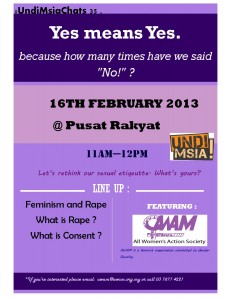 #UndiMsiaChats 35, a collaboration between AWAM and UndiMsia
Date:               16th February 2013 (Saturday)
Time:              11am- 12pm
Venue:            Pusat Rakyat 3-4, 4th Floor, Jalan Bangsar Utama 3, 59000 Kuala Lumpur
For too long, feminists have tried to explain that 'No means No' but this seems to have fallen on deaf ears. We have had to fight against gross misconceptions as to what rape is, as well as what consent really means.
Let's rethink our attitudes on sexual etiquette. What is yours?
Come join us at UndiMsia on 16 February to learn more about this issue. Be a part of transforming the rape culture that is prevalent in our society!
AWAM is a feminist organisation and has been devoted to the issues of Gender-Based Violence. If you're interested in being part of our Anti-Rape campaign, join us and let's move!
Contact us at 03 7877 4221, or email awam@awam.org.my if you're interested!