LET'S MAKE POSTERS!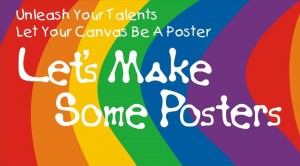 Calling all doodlers, drawers, painters, closet artists, designers, poster-making fiends, artsy-fartsies and those who are looking for something to do!
AWAM is in the midst of planning for our International Women's Day and we would love to make you a part of it. This year we are going old-school with a poster exhibition and a photo collage. The theme of our event is 'Rape' and we will also be holding forum with a feminist panel and chat sessions where people can voice their opinions. It is a safe space for discussion and we hope to jump-start a constructive dialogue on rape and its related issues.
We invite you to come by AWAM to be a part of the poster-making action! AWAM will provide supplies, just bring yourself and a friend or two! The more the merrier

AWAM has an awesome collection of books packed with information for you to browse through. Here is a chance for you to express how you feel about Violence Against Women as well as have your work on display for hundreds of people to see.
AWAM was inspired by an exhibition by a group of women, back in 1985, on International Women's Day. We hope to re-create the enthusiasm and creativity that was surely part of the success of that event, where thousands of people showed up to raise their consciousness about violence against women. This issue is now known as Gender-Based Violence, a core part of AWAM's work until today.
We are scheduling poster-making time on the following dates:
March 1st (Friday) : 2pm – 6pm
March 2nd (Saturday) : 10am – 1pm
March 4th (Monday) : 2pm – 9pm
March 5th (Tuesday) : 2pm – 6pm
March 6th (Wednesday) : 2pm – 5pm
March 7th (Thursday): 2pm – 9pm
If you're interested, please e-mail us at awam@awam.org.my or calls us at 03-7877 4221 and we'll book a place for you to come and express yourself! Please leave your name, phone number and e-mail address. Thank you!